Adult Cat Picture Gallery

For more information, contact:
Suzanne Zwarun
(902)281-2084
zwaruns@eastlink.ca

---
Zsuzse's Darkwinged Sprite
Whatever Lola wants,Lola gets. This girl had the dramatic
dark beauty to suit the name, so I called her Lola. But what
Lola wanted was not to be called Lola. So I tried calling
her Layla. No response. I tried naming her Lulu. Still no
response. Then one day I found her sitting atop a radio
playing the old rock song, Louie Louie. She was purring.
I think she was telling me her preferred name. So Louie
Louie it is.



Some of LouieLouie's kittens
---
Jack
---
Luka and his sky-blue eyes
---
Zsuzse's Sapphirewing
Zsuzse's Sapphirewing and friends.
---
Leilani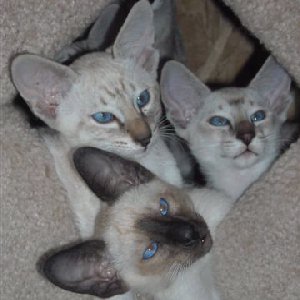 Leilani and her kitten